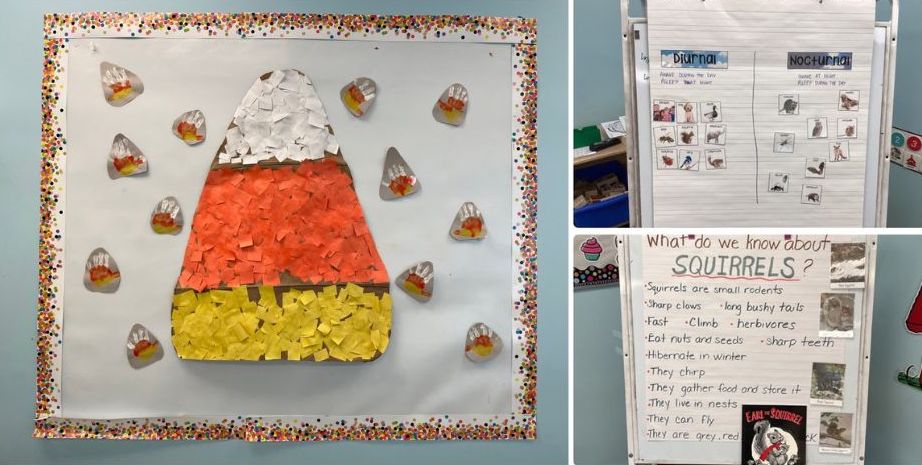 October News: Week of October 17th
Flu Vaccines
All children ages 6 months and older are required to get their annual flu shot no later than December 31st. Please submit proof of receipt to the office as soon as your child receives their vaccine.
Halloween
We will hold our annual Halloween parade on Monday October 31st at 9:30am, weather permitting. Parents are invited to watch as our children show off their costumes and parade around the Sproutlings parking lot.
Please keep the following in mind when buying costumes:
Please limit costumes to something that can be worn to school in the morning and that children will be comfortable in. Children can be changed from their costumes after the parade if parents provide an alternative outfit. **Costumes that can be worn over regular clothes are preferred!**
Please leave all accessories at home as it is difficult to keep  track of them and we do not want them misplaced. Hats are ok.
Peapods
Peapods
October is going by so fast. We are getting ready for Halloween. We have a great big pumpkin for our room that we have touched, rolled, and even banged on. We found it pretty amazing!
We are also working on our fine motor skills with one of our favorite things to do-our jar caps and big jar. We love being able to put the caps in the jar. We are getting very good at it and new friends are now trying to place the caps in the jar too. Ms. Emily and Ms. Laura sang some silly songs for us. We really enjoyed Baby Shark. Ms. Lu read Corduroy's Best Halloween Ever! by Don Freeman.
Peapods II
We had an absolute blast these past two weeks in Peapod II! We are really into the Halloween spirit. Last week we mixed orange and white paint together in plastic bags & we loved how the colors changed the more we mixed them together! We absolutely loved painting our names on our class pumpkin with the help of Ms. Nairah.
We enjoy holding hands with each other and dancing along to 'spooky' songs such as "Monster Mash" & "Ghostbusters". We've really been showing off our moves on the dance floor.
While outside on the playground, we really enjoy watching the leaves fall from the trees as the wind blows them away. We love the rustling noises that are made as we walk and stomp all over the fallen leaves. Some times we even hold on to the leaves because we think the brown, red, & yellow colors are so pretty! We are super excited for more Fall & Halloween activities!
Seedlings
What a busy two weeks it has been! We were super excited that the fire truck came by and some of us were able to sit in it.  The Fire Captain showed us her uniform and put the firetruck  lights on.
We made thumbprint ghosts and then moved on to our big project.  We all worked on a giant candy corn to decorate classroom and also made small handprint candy corns.  The Seedlings were thrilled to make Miss Paige's favorite Halloween treat!
We have been enjoying going to the playground in the morning and if you could bring in warm coats and hats it would be much appreciated.
During circle time, we read Llama Llama Trick or Treat by Anna Dewdney and singing "5 Little Pumpkins".
Little Sprouts
Little Sprouts had so much fun talking about Fire Prevention and Squirrels. We were so excited to see the Fire Truck and sit in it. We loved seeing the lights flash and to get stickers and hats. During circle time we had lots of fun talking about what color a fire truck is, what sound it makes, and who drives a fire truck.
We also talked about squirrels. How they live in trees, what color they are, and what they eat. We had so much fun making our handprint ghost to decorate our door. We can't wait for next week to talk about Halloween!
Beanstalks
The Beanstalks have been busy learning about fire safety and bars and spiders! Last week we learned about fire safety and we LOVED IT! We discussed why we practice fire safety, who comes to help us when there is a fire, and what is a firefighter does!
We also got a visit from our local fire department and it was the best day ever! We got to sit in the truck and meet the firefighters. We sang " Hurry Hurry Drive the Fire Truck." Our favorite story was  Pete the Cat: Firefighter Pete!  by James Dean. We worked on our fine motor skills when we made fire hats and put out "fire" in a house just like a real firefighter.
This week we learned all about bats and spiders! How bats like to sleep during the daytime and that spiders have 8 legs.  We sang "The Itsy Bitsy Spider" and "Creepy Crawly Spider." We read  The Very Busy Spider  by Eric Carle and There was an Old Lady who swallowed a Bat!   by Lucille Colandro. We used our fine motor muscles when we created a bat silhouette using a bottle to spray paint. We made a spider.  Our sensory bin was filled with a  web, spiders and pumpkins. It is so much fun!
Pre K 3 and Saplings
This week we had fun watching the leaves change color and fall from the trees! We started the week off by making our own colorful leaves using watercolors!
The children worked on their fine motor skills by adding leaves to a tree. We also matched leaves with there shadows! We read Tattybogle by Sandra Horn and The Lonely Scarecrow by Tim Preston, then we made our very own scarecrow!
We learned why the leaves change color in the Fall and what scarecrows are for! Everyone got to pick their own pumpkins and paint them for Halloween! It was a fun filled week, we're excited for next week's study on apples!
Pre K 4
In Pre K 4 this week the children spent the week learning about Squirrels and Bats. We learned about their life cycles, eating habits and habitats. Favorite books this week were The Secret Life of Squirrels by Nancy Rose, Scaredy Squirrel by Melanie Watt and Nightsong by Ari Berk.
The children worked on number order by doing squirrel puzzles and making hats based on the book Stellaluna by Janell Cannon. We sorted acorns by size, worked on patterns and used clip cards to count and recognize numbers.
Our HWT letters this week were W and V. We worked on identifying upper and lowercase letters  and letter sounds. In our journals,  the children wrote about bat and squirrels.
Next week the children can look forward to learning about Diwali as well as some fun Halloween activities.