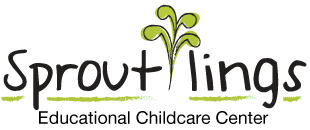 Sproutlings Newsletter: Week of August 17th
Reminders:
Please be sure you ask for an updated Universal Health Record for Sproutlings at your child's annual well visit.
If a child visits any of the states on the New Jersey restricted travel list, they are required to stay home for 14 days prior to returning to Sproutlings. Quarantine begins on the first day a child returns to NJ after travel. As a childcare center, we rely on parents' complete transparency in order to keep our young and vulnerable population safe. Please plan vacation time accordingly.
Our staff training day that was scheduled for this Friday, August 28th has been changed to a virtual training. We will now be OPEN on this Friday in an effort to give parents some extra time.
At pick up, please stay by your vehicle and teachers will walk your child to you. Please do not walk to the front door. We ask that you maintain at least 6 feet distance from other parents and make sure you are wearing a mask at all times. Thank you for your help in making sure that pick up is as smooth and safe as possible!
Beginning next Monday, August 31, our hours will increase to 7:30-4:30. The pick up time frame will be changed to 3:30-4:30. If you need to pick up your child before 3:30, please email us. Children will continue to be in their exclusive pods and there will be no mixing of classes. Teachers will remain with their class.
Peapods I and  II
It's been loads of fun in the Peapods room! We have been enjoying dancing and bopping to the music. As always, bubbles are a bit hit! Peapods II had a lot of fun adventures the past two weeks. We sang"It's Raining, It's Pouring" on the rainy days. For art we made footprint ice cream cones. Our book of the week was Rocket Town by Bob Logan.
Seedlings
This week in the Seedlings room we had fun exploring the farm for a second week in a row!  We loved building our own farm and putting the animals there.  We're really good at identifying and making this sound for the animals. We really love to go " Moo!"  We also  did a fantastic job of coloring our own barns and painting black sheep. The Seedlings can't get enough of the playground and love riding and pushing the cars around    During circle time we sang "Baa, Baa, Black Sheep" and read Sneak-a-Peek Colors by Aimée Chapman.
If you haven't brought in a updated family, do so please.  Also, next week, we'll be talking about camping.  Well be making s'more's in the classroom for the children.  Please let us know if your child can participate.
Little Sprouts
What a fun week we had in Little Sprouts! We talked all about picnics. We read Spots First Picnic by Eric Hill and sang "Ants Go Marching." During circle time, we pretended we were the marching ants and marched around the room singing the song. We also talked about places we go to have a picnic and the types of food we bring with us. For art, we made thumbprint ants using paint and sponges. They are hanging up in the classroom for everyone to see. We also had a lot of fun in the kitchen area with our play food! Next week we will be talking about healthy eating.
Beanstalks
Hello from the rainforest! This week we learned all about the rainforest and the animals that live there. Many of us knew that monkeys and birds lived in the rainforest, but we were surprised to learn about the sloths and jaguars that lived there too! We read The Great Kapok Tree by Lynne Cherry which taught us how important conserving the rainforest is for the animals and people that live there. During art, we made rainforests using construction paper and we made red-eyed tree frogs! We practiced identifying letters and shapes using our magnets. We also used our pattern blocks to make snakes using different shapes. Next week, we will learn about the circus!
Saplings
Saplings (Pre K 3) had a fun week learning about zoo animals. We traveled to the San Diego Zoo through our smart boards! We were able to watch the animals (live) in their homes as our guide taught us interesting facts about them!  We created giraffes from our hand prints and giraffe masks to cover our faces. We worked on strengthening our  hand muscles by coloring and we reviewed our alphabet by feeding a monkey! We also worked on counting. We had a great time at the zoo!
PreK 4
This week we learned about everything that happens on a farm. We discussed the animals, crops and the farmers. The children were eager to learn all the ways that animals provide for us and everything that the farmer has to do to keep the farm running smoothly. While many children knew about corn being grown on the farm they also learned all the other fruits and vegetables that can be grown on a farm.
The children enjoyed practicing their shapes by counting and sorting while also learning about new shapes such as pentagons and hexagons! Fine motor skills were used on our count and clip cards. This was done by using clothes pins to identify the number that matches the correct amount of items provided on the card.
Letters and letter sounds were a big part of our week. The children traced the letter A and matched the correct letter to the beginning sounds of items provided. Handwriting was practiced again while tracing letters to answer our journal question of the week.
A couple of the books that we read were The Little Red Hen by Bonnie Dobkin and Biscuit's Day at the Farm by Alyssa Satin Capucilli.