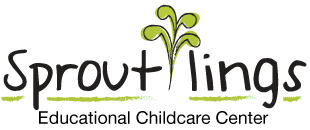 Sproutlings News – December 18, 2017
Reminders:
-We are closed Monday, December 25th and Tuesday, December 26th. We are also closed on New Years Day. We wish all of our families a Happy Holiday! Merry Christmas and Happy New Year! Thank you for everything that you do!
Peapods
This week was very festive. We finished our Christmas decorations. We sang "Sleigh Bells" using our bells to ring along. Some of us recognized our brother and sister on our sign language photos. What a great surprise! We're also able to point out some of the animals in the photos that are on our wall. Dumping our toys from the bins is always great fun. We played with our jar cap sorter this week. Most of us are able to get the lids in the jar. Our book this week was Little Bear's Special Friend. Wishing our families a very Merry Christmas!  Hope you enjoy the time with your families.  
Seedlings
It was such a fun week in the Seedling classroom. We used our fine motor skills to paint a giant green tree for our wall. Come by our classroom to see our masterpiece. We love our new cozy corner. Thank you to Miss Bridget for building our new couch and to Miss Sam for letting us have pillow fights with her. We had a blast making presents for our mommies and daddies. We also had a ton of fun at our pajama party. Miss Jess dressed like Buddy the Elf. She is so funny. We wish our families a very Merry Christmas!
Little Sprouts
We welcomed the start of winter this week in the Little Sprouts class! It feels like winter has been here for a while but we talked about what happens in the winter! We readThere Was an Old Lady Who Swallowed a Bell by Lucille Colandro and danced around to "I'm a Little Snowman!" Our sensory table was filled white shredded paper and hidden gingerbread men. For art, we worked so hard to make special gifts for our mommies and daddies. We hope they like them! Little Sprouts also celebrated the holidays with a party! Thank you to all the parents who contributed. We've been having so much fun singing holiday songs during our music class with Miss Robin. We also had a great time with our new Elefante Music teacher and exercising in our Stretch-N-Grow class! And from everyone in the Little Sprouts classroom, who hope you have a happy and fun-filled holiday! Thank you for all you do to help us!
Beanstalks
This week in Beanstalks we have been busy getting ready for the holidays.  A special thank you to our Beanstalk parents who helped make our holiday pajama party a success In literacy we continued to learn about Hanukkah and introduced the new letter of the week which was D. We thought of words that began with the letter and traced the letter D at the easel.  We also worked on sorting items for our D tub. In science/sensory we made "snow " using baking soda and conditioner.  The children had a great time pouring in the ingredients and exploring with the "snow." They found letters that were hidden in the snow! In math, we continued to review the number 8.  We made the number eight out of play dough using the play dough mats and made groups of eight with our bear counters. In art this week we worked very hard on the special holiday gift, colored Christmas trees, made holiday stockings and candy canes. Next week we will continue our discussion on the holidays and review the letters we have learned thus far.
Pre K 3
This week in Pre K-3 we had an exciting week! In literacy, we learned about Christmas and introduced the new letter of the week which was D. We learned the sound the letter D makes and came up with words that start with D. We read Rudolph the Red Nosed Reindeer, Froggy's Best Christmas, Night Before Christmas, and The Biggest Snowman Ever.In science/sensory, we made "play snow" using baking soda and conditioner, the children had a great time pouring in the ingredients and exploring with the "play snow". They loved making snowballs and making a snowman! In math, we learned the number 12. We wrote the number 12 in salt and counted to 12 hanging up lights! In art, this week we painted using bows with red and green paint. The kids loved using the bows as paint brushes! We had a great time at our holiday/pajama party! Have a Happy Holiday!
Pre K 4
This week we continued our study on winter holidays. The class explored the question, "What is Christmas?" The class learned about behavior that is naughty and behavior that is nice. We discussed what we already know about Christmas and what we wanted to learn. The children shared what they like best about the holidays. We created finger paintings of Christmas trees. The class made special gifts for Mom and Dad. The class loved playing "pass the present." We took turns guessing what shape was inside our gift box using clues to make our educated guesses. The class found a star to top each tree in our upper and lower case letter matching game. We worked on our math skills following and creating Christmas patterns.
This week's letter focus was on D. We thought of many D words, and practiced writing it on our chalkboards. Our number was 12 and we created drawings of 12 objects. The children practiced their writing skills writing in the "snow". This week we sang many Christmas songs and played Christmas carol freeze dance. Our stories this week were Snow Friends, The Grinch, and Olaf's Night Before Christmas.