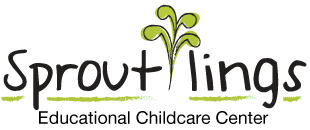 Sproutlings News – February 19, 2018
Reminders:
Believe it or not, the end of February is approaching! Please remember to order your Simply Gourmet lunches for March! 
In honor of Dr Seuss' birthday, we are inviting parents, grandparents, and family members to come read to their child's class. If you are interested, please reach out to your classroom teacher. We would love to have you!
We are taking gently used books for our classrooms. If interested, please contact Kerry.
Peapods
This week we took advantage of the beautiful weather. We were very lucky to be able to spend so much time outside. We are continuing to practice using sign language. We're hoping to add new words soon. We've been busy with our blocks. It's not easy to build high towers when other want to knock them down! We keep trying though. We love when Miss Kerry visits us. It's such a treat! We've been learning nursery rhymes with Ms. Robin. Our music time is very special to us. Our book this week was Corduroy by Don Freeman and our song was "The Wheels on the Bus."
Seedlings
We've had an exciting week in the Seedlings room. We had a grand time learning how to count our jumping. We also made a log cabin made of popsicle sticks. It was great being able to glue them into a cabin then seeing them transform before our eyes. This was all in honor of Abraham Lincoln and Presidents Day. We honored George Washington by making cherry trees. In our sensory table we had a blast washing some blocks with sponges. It was great being able to scrub them down and feel the texture in our hands. We also enjoyed that one spring-like day. We can't wait for more days like that! During circle time we read Chick Chick 123 by Bill Martin Jr. Michael Sampson, and Lois Ehlert. We danced to "The Final Countdown." It's our class favorite……Thank you Kevin for introducing it to us!
Beanstalks
Our Beanstalk friends have been a very busy bunch engaging in many learning experiences.  We introduced the letter N and sang songs which reinforced the letter sound. We also introduced the number 6 and practiced doing various gross motor activities 6 times.  Our new study for the next few weeks is pets.  We talked about what a pet was and asked the question, " Do you have a pet ?" Next week we will continue our study of pets and introduce the letter V.
Nursery 3

Spring is just around the corner. Our days are getting longer and we are getting outside more and more.  We are still working hard in our Nursery 3 class.  In literacy, we introduced the new letter of the week which was N.  We reviewed the phonemic sound and thought of words that began with N.  We also practiced tracing with markers and cutting.  In math we introduced the number 13 and did a "counting bones activity" to reinforce our one to one correspondence of the number 13.  We have started a new study the week, the study of pets.  During our study of pets we will explore the question, "What makes a pet?" and discuss how we take care of pets as well.  If you can please send in a picture of your pet if you have one it would be appreciated as we will do an activity around the pictures.  Next week we will continue the study of pets and introduce the letter V.
Have a great weekend 🙂
Pre K 3
Pre-K3 had a great week! This week  we started a new study on pets! In large group we talked about what we know about pets and what we want to learn about pets. We turned our science center into a pet clinic where we can explore how animals are cared for. We turned our kitchen into a pet store! We named our store  "Paws-itively Pets!" In art, we made a rainbow fish using glitter. We came up with what our dream pet was and drew a picture of it. We also introduced the new letter of the week which was "N". We learned the sound the letter "N" makes and came up with words that start with "N". We practiced writing the letter "N". We read My Perfect Pet,The Rainbow Fish, and A Pet For Pete. In math we counted using dog bones. In literacy, we made a book with the beginning letter and sound of pets.
Next week we will continue our study on pets and also focus on Dr.Seuss. Hope you have a wonderful weekend!
Pre K 4
This week Pre K 4 celebrated Presidents Day. We learned about what the President does for our country and what makes someone a good President. We discovered that George Washington, our first president, helped win the US their freedom from the King and even practiced writing with a quill just like George Washington did. We explored US coins. We played coin bingo, sorted coins, learned about each coin's value, and designed our very own coin. We did a science experiment finding the best way to clean a copper penny. The class learned about the US flag, we know why it has 50 stars and 13 stripes. We worked in groups to create a tissue paper American Flag. The group was given the materials and had to work together to decide how to make their flag. The class read Red, White, and Blue, Dolley Madison Saves George Washington, and I Can Be President. In literacy, we added the words "to", "in" and "is" to our word wall and searched for those words in our books and writing. The class wrote what they would do if they were President.
This week we had a special visit from Jacob's mom who taught us more about Chinese New Year. Next week is Read Across America. We will be celebrating children's literacy and Doctor Seuss' birthday!