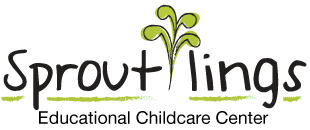 Sproutlings News – January 29, 2018
Important Reminders:
We are looking for gently used children's board books for our classrooms. If you are interested in donating books, please reach out to the classroom teachers. Thank you!
For a list of our 2018 Holiday closures, please visit our website. We will be closed Friday, February 16th for a Staff Training Day as well as Monday, February 19th for President's Day.
Peapods
This week during music time with Ms. Robin, we sang nursery rhymes.  Some we have heard before and some new to us.  We love learning new things! Dancing is another activity we love, especially when we can watch ourselves in the mirror. We've been playing with our shape sorters . It's not always easy to get the right shapes in the matching shape but we're working very hard to do it. Some of our "crawlers" are starting to pull themselves up.  It won't be long before they start walking around.  They're all growing so fast. Our book this week was Hedgehugs by Steve Wilson and our song was "If You're Happy And You Know It."
Seedlings
In the last week of January we're getting into Valentine's Day. We had a great time painting hearts and painting with q-tips. We will be having a Valentine's Day party and there will be a sign up sheet at our door. We've had a great time sailing boats in our sensory table. It was fun to watch them float. We also had fun learning how to take turns in our tunnel. We still need some practice. During circle time we read 
Emily's Valentine Party
 by Claire Masurel.  We sang and danced to "Surfin' Bird." We celebrated Kevin's 2nd Birthday  
this Friday
 and all the Seedlings had a great time eating special snacks.
Little Sprouts
Little Sprouts was out of this world this week as we learned about space! We readGoodnight Moon and sang and danced along to Laurie Berkner's "Rocketship Run" and the classic "Twinkle, Twinkle Little Star." We talked about the night sky and how we can see the stars and the moon up in space. We used foam stars and moons and dipped them in paint to make the night sky! We also used star stickers to make our own starry night. We had so much fun with our puzzles and playing with our friends. As always, we had a blast learning new songs with Miss Alexis from Elefante Music and running around with Stretch and Grow!
Beanstalks
Welcome to the wonderful month of February. With Valentine's Day approaching fast there is a definite feeling of love in the air.  This week in Beanstalks we talked about winter and introduced the new letter of the week which was K.  Our friends enjoyed reading the bookPorcupine Valentine  and The True Story of the Three Little Pigs. We even acted it out.  The children are still excited about building and decided to paint with hammers and made "Sticky Buildings" for art. Thank you to all of our parents for helping pick great items for show and tell.  It's challenging at times but you always make it work! Next week we will introduce "Nursery Rhymes" and the new letter of the week which will be "U."
Pre K 3