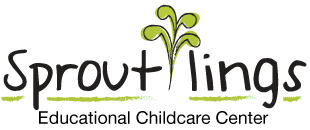 Sproutlings News – January 8, 2018
Important Reminders:
-We will be closed on this upcoming Monday, January 15th for MLK day. For a printable version of our days off, please visit the website under "Calendar"
Peapods
It was another busy week!  We had a lot of fun with our tunnel.  We always love to chase one another through it. We've been making our snowflake decorations this week.  You can see them on our door. We like to play with our beach balls. We're getting very good at throwing them. We also like to roll the smaller balls to each other. We're doing so well with using sign language.  Some of us can sign four words! This week we read The Little Snowflake by Steve Metzer and sang "Frosty the Snowman."
Seedlings
What a fun week the Seedlings had! We had an amazing time decorating our door for winter. The children loved painting a huge piece of paper with painter's tape to make snowflakes on it. Then later in the week we made hand prints of polar bears and penguins. The Seedlings love their finished project. We also had a great time molding dough and making different shapes. During circle time we read
 The Jacket I Wear in the Snow
 by Shirley Neitzel and sang "I'm bringing home a baby bumblebee." We would like to welcome Lydia West to the Seedlings room! See everyone 
on Tuesday
!
Little Sprouts
Little Sprouts had a blast this week learning about winter! We read The Snowy Day by Ezra Jack Keats and danced around to the popular "Do You Want to Build a Snowman?" Our sensory table was filled white shredded paper and cotton balls. For art, we made so many snowmen! We used puffy paint to make our own and we glued cotton balls onto cardboard cutouts of snowmen and then decorated them! The weather has been very cold these past few weeks so we talked about how to dress for the weather. We've been having so much fun playing in the big room upstairs! We also had a great time with our Elefante Music teacher and with Miss Robin who is always teaching us new songs!
Pre K 3
This week in Pre K-3 we started a new study on buildings! In large group we talked about what buildings are made for, made with, made by, and where they are located. We also talked about the buildings around our school and what they look like. We wrote our answers down and hung it up in our block center. In art, we used different shapes to build our house and made the Three Little Pigs houses. We also used legos to paint with in the art center. We also introduced the new letter of the week which was B. We learned the sound the letter B makes and came up with words that start with B. We read "A Chair for My Mother", "House, Sweet House", and "Building,Buildings, Building". In math we counted to 14 by building a tower with LEGOs. Next week we will continue our study on buildings. We are going to look at the difference between our classmates house. If you could bring in a picture of your house, that would be great! Next week we will investigate the question, "Who builds homes?" Hope you have a wonderful weekend!
Pre K 4
This week we investigated the question "What animals are pets?"  The class compared and contrasted dogs and cats creating a Venn diagram of their observations. We learned how domestic, wild and pet animals differ. The class had the opportunity to sort animals by whether they were wild or pets. We played many fun pet games that let us find out more about different type of pet animals. We played "Pet Sound Bingo", a pet memory game, and held a pet race. In literacy, we write about what would happen if we had a wild animal as a pet. We matched animals starting sound to their corresponding letter and we practiced making letters in sensory trays. For our math lessons we created pets using a variety of shapes, sorted animals by cage versus non caged and we used dice to practice our one to one correspondence.
This week's letter focus was on B. We thought of many B words and practiced writing it on our chalkboards. Our number was 14 and we traced large numerals using dot art. Our stories this week were Maggie and Milo, Play Kitty, The Cat in the Hat and Tonio's Cat. We learned why we celebrate Martin Luther King Jr Day, and discussed all the wonderful things that make us different. Next week we will investigate the question, "How do you care for pets?"