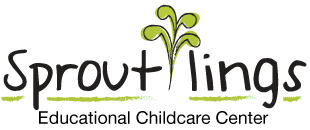 Sproutlings Newsletter: Week of February 24th
Peapod I
We had another enjoyable week in the Peapod room. We are making great strides with our development.  Some of us are starting to pull up to standing and some are even taking a step or two!  We have also discovered our gate.  Learning there are many people passing our room and stopping to say hello.  We love it! Our books are one of our favorite things we have.  We are trying to learn how to put them back in their basket after we dump them out. Some of us are also getting good at stacking our big blocks. We are always learning.
Our book this week was The Foot Book by Dr. Seuss and our song was "Head, Shoulders, Knees, and Toes."
Peapod II
There was so much fun to be had this week!
We had beautiful weather so we went outside a lot. Towards the middle of the week, there was rain but that didn't dampen our spirits! We went to the indoor playground, painted, played in our tunnel, and had fun in our pop-up school bus, among other fun activities. Our favorite song this week was "London Bridge" and our favorite book was Little Snowman published by Chronicle Books.
Seedlings
What a great week the Seedlings had! We had a lot of fun when we were able to go outside this week.  We pretended that the caterpillar was a huge train and were very excited to shout out "Choo Choo!" We were also thrilled to play with bubble wrap.  We loved being able to stomp down very hard to hear the bubbles pop! Then we would do it with our fingers and trucks! But the most fun we have is to identify animal sounds to their picture.  We are getting quite good at it.  We love learning about new animals and excitedly try to make their sounds.  The Seedlings love doing their dot art and seeing what type of creations we make.  During circle time, we read  Where's Spot? By Erin Hill and sang " Head, Shoulders, Knees, and Toes."
Little Sprouts
This week, we celebrated Dr. Seuss in the Little Sprouts classroom! We read "Fox in Socks" and One Fish, Two Fish, Red Fish, Blue Fish by Dr. Seuss. We sang "Going to the Zoo."  Our sensory table is filled with white shredded paper with plastic gold coins and green garland pieces. For art, we finger painted shamrocks to hang for decoration in the classroom. We had lots of fun being messy and playing with the green paint! We also worked on sorting colors by matching colored bears to the colors of the rainbow. We are getting better at recognizing our colors! We can't wait to see what our coaches from Stretch-N-Grow are going to show us next week. Next week, we will continue to talk about Read Across America.
Beanstalks
This week in Beanstalks, we wrapped up our buildings study. We talked about all of the things we had learned over the past weeks like materials used, who builds, what is used to build, and buildings we see in our neighborhoods frequently. We are all experts on construction now! This week, we created buildings using paper cups and popsicle sticks. We had to really think about how to place these materials to make a tall building in this fun STEM challenge. We used foam blocks to create skyscrapers by using shaving cream to hold them together and we dipped them in paint during art to make cool buildings. We loved all the sensory experiences we had this week and loved playing with slime and play dough. Our sensory table was always a popular choice too! We practiced counting up to twenty and identifying letters. Next week is Read Across America! We will read tons of fun books. We had lots of fun playing with Stretch and Grow.
Beanstalks II
Beanstalks II are on our last week of the building study. This week, we learned about the tools that help create buildings. Also, Beanstalks II learned that different buildings have different things going on in them. Sometimes we can guess what happens inside the building by the way the building looks. We "built" a truck after learning about factories. We practiced writing the letter Hh.
We enjoyed rereading the "Pig" books this week which were The Three Little Javelinas by Susan Lowell and The True Story of the Three Little Pigs by Jon Scieszka.
Saplings
It's been a building, building, building week in the Sapling room. This week in large group, we explored new and old buildings. We looked at how they are different and similar. We also talked about the difference and similarity of The Three Little Pigs and The Three Javelinas. In math, the children made ABC patterns using red, green and yellow legos. The kids worked on their fine motor skills by practicing cutting white paper to make windows for their buildings. We continued working on our handwriting without tears. This week, the children learned to write the letter "S." Next week is Read Across America!
PreK 4
This week in PreK4, the children read the books The Day the Crayons Quit and The Day the Crayons Came Back by Drew Daywait and Oliver Jeffers. After reading the stories, the children had the opportunity to write their own letters to their favorite crayons. In keeping with a crayon and color theme, the children learned about graphing by separating and sorting colored buttons and then recording that information by coloring squares. We used tally marks to chart our favorite color and then determined which was the most and least popular color in the class.
The children practiced addition concepts by counting each side of a domino, recording the numbers and then adding all dots the together. This helped to enhance their fine motor skills as well as proper number formation.
This week we focused on the word "and" as one of our sight words. We did this by first reading the word, then searching through a pile of letters to build the word and finally writing the word. The children also practiced recognizing and writing color words.
The children enjoyed a visit from the Dentist this week and were delighted to share all that they learned last week about caring for our teeth!
Next week the children can look forward to " Read Across America" and Dr. Seuss's Birthday.